Some of the most exciting new ideas being developed as part of the new WCRP are the Lighthouse Activities. They are intended to be:
Major experiments, high-visibility projects, or infrastructure building blocks
Activities that truly integrate the capabilities (scientific, technical, infrastructure) across WCRP and with partners.
The proposed Lighthouse Activities are:
| Provisional Name | Objective |
| --- | --- |
| Explaining and Predicting Earth System Change | To design, and take major steps toward delivery of, an integrated capability for quantitative observation, explanation, early warning, and prediction of Earth System Change on global and regional scales, with a focus on multi-annual to decadal timescales. |
| My Climate Risk | To develop a new framework for assessing and explaining regional climate risk to deliver climate information that is meaningful at the local scale. |
| Safe Landing Climates | To explore the routes to climate-safe landing 'spaces' for human and natural systems, on multi-decadal to centennial timescales; connecting climate, Earth system, and socio-economic sciences. Explore present-to-future "pathways" for the achievement of key SDGs. |
| Digital Earths | To develop a digital and dynamic representation of the Earth system, optimally blending models and observations, to enable an exploration of past, present, and possible futures of the Earth system. |
| WCRP Academy | To establish one or more targeted capacity exchange climate programmes, working with one or more of the other lighthouses and established climate education providers, including universities. |
NOTE: The names and outlines of the Lighthouse Activities are provisional. Since these were produced in April 2020 (see the full Hamburg Workshop Report) there has been substantial consultation and the next step will produce refined and more detailed science plans. An outline of the WCRP Academy has yet to be developed.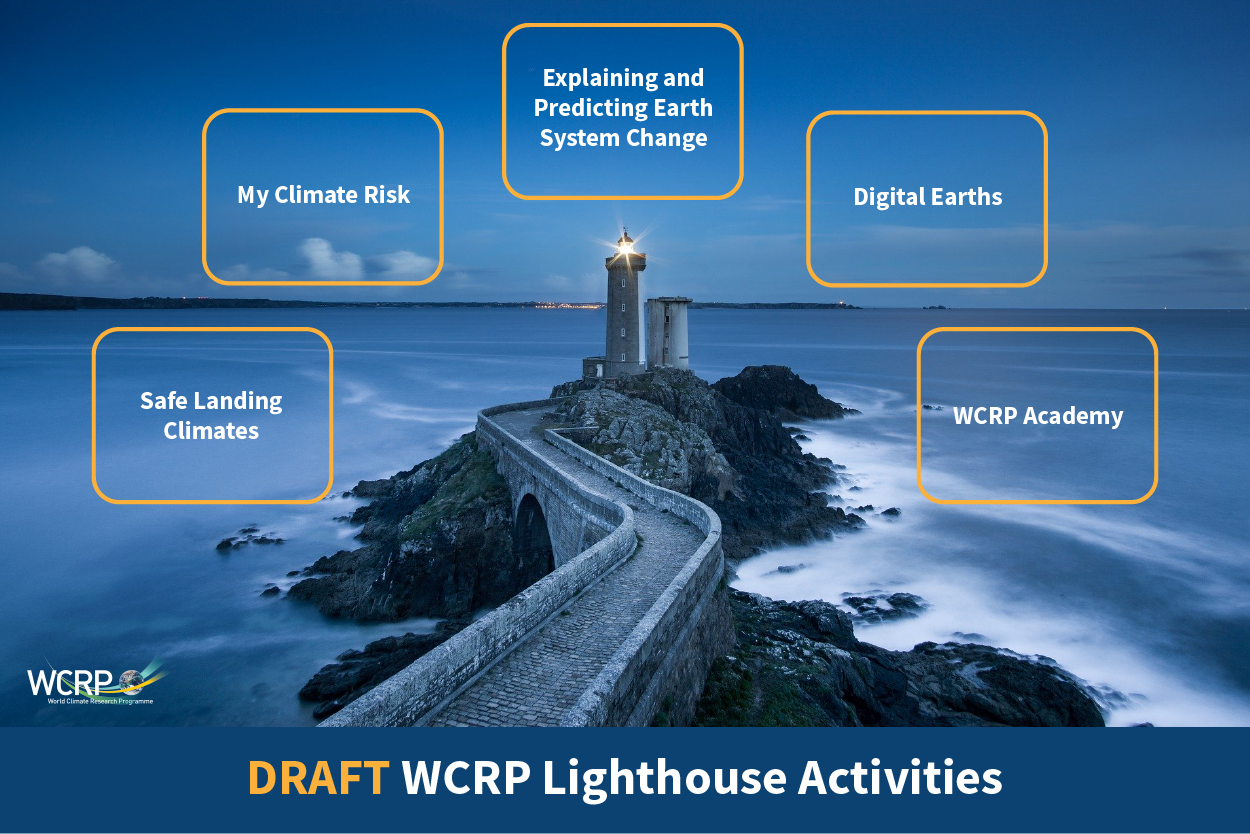 We expect that the five proposed Lighthouse Activities will provide the science required by WCRP to deliver its outcomes, and to ensure that societal needs are being addressed, over the coming decades.
Image: Pixabay 1758197, modified by Narelle van der Wel 2020